Greetings from Hammad Zaidi: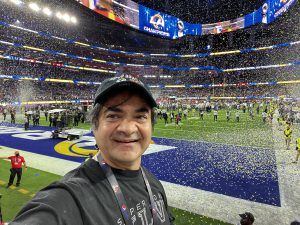 Hi. I'm Hammad Zaidi, a ridiculously lucky kid at heart who has watched most of my childhood dreams come to fruition. I'm also disabled, and becoming a card-carrying member of the brotherhood of the physically challenged is the single luckiest event I've ever experienced in my life.
Welcome to "Limping On Cloud 9." What started as a podcast in 2017 is now being developed as a major motion picture, as well as a novel and an audiobook. One of my life's goals is to get you to chase your dreams, so just being here is a wonderful first step.
You're about to experience five-plus decades of inspiration, devastation, comedy, and tragedy, all wrapped up into easy-to-digest slices of life. Hopefully, my podcast can serve as a small, delicious ingredient in the recipe that helps you overcome any seemingly insurmountable obstacles that may be blocking you from chasing your dreams. Trust me, if I can limp into the life I love, then you can achieve anything you wish.
Below is a sample podcast. Other showcased episodes are on the Media page, and all episodes are in our archives. Our podcast can also be found on iTunes, Spotify, Stitcher, and several other distributors worldwide.
For information on our film, click on the "Limping On Cloud 9" poster, and/or the IMDb and Quora icons.
We encourage you to join our Facebook Community of nearly 11,000 friends, and if you're in a hurry, "59 Seconds Of Cloud 9" offers bite-sized nuggets taken from some of our podcasts. Thank you for lending me your eyes and ears, and I look forward to borrowing them again soon!